What is the problem?
Wired Ripples on large flat sections of prints & Print does not come out complete
On this side only, the surface of my print came out with ripples like shown in the picture below, while all the other sides and features on the print look just fine. The Print also seemingly just stopped after about 90%, leaving the top open. I do not have a time-lapse of the print, but it seems like it actually made all the moves, considering the print head was above the edge of the part and in the park position for part removal.
checking serial.log and the gcode file I saw that the entire file should have been printed and there was no error during the printing process from what I can tell. In octoprint.log the only error I could spot was from the autoselect plugin which tried to load the .ufp file after correctly selecting the gcode file, which fails and seemingly does nothing.
After job completion I send a M150 B000 R000 U000
The Filament I am using is a completely new roll of a brand I have had luck with before, so I am guessing it is not the fault of the material im using. I also checked the nozzle for partial clogs but it seems to be really clean. The Extruder assembly seems to be intact, when I manually extrude an amount in the web interface, the right amount of filament is used, there is no skipping or any other things that would hint at a mechanical problem.
The ripples on the sides only appear on some prints, when I printed the same thing together with something else, the surface turned out smooth, but it still aborted at some 80% without any error in the logs I could see (printed at an earlier date, not in the logs, but then again, I had serial.log turned off at the time)
At this point I do not really have an idea what could be causing my problem, so I am turning to this forum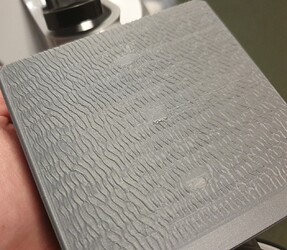 What did you already try to solve it?
try different filament
check logs
upload manually just as .gcode
update all plugins and software on host machine
Have you tried running in safe mode?
no
Complete Logs
truncated_octoprint.log (46.9 KB)
truncated_serial.log
gcode file i was printing
Additional information about your setup
browser.user_agent: Mozilla/5.0 (Windows NT 10.0; Win64; x64) AppleWebKit/537.36 (KHTML, like Gecko) Chrome/89.0.4389.90 Safari/537.36
connectivity.connection_check: 8.8.8.8:53
connectivity.connection_ok: true
connectivity.enabled: false
connectivity.online: true
connectivity.resolution_check: octoprint.org
connectivity.resolution_ok: true
env.hardware.cores: 2
env.hardware.freq: 2200
env.hardware.ram: 3773009920
env.os.bits: 64
env.os.id: linux
env.os.platform: linux
env.python.pip: 20.1
env.python.version: 3.8.5
env.python.virtualenv: true
octoprint.safe_mode: false
octoprint.version: 1.5.3
printer.firmware: Marlin 2.0.5.1 (GitHub)