What is the problem?
When I'm booting Octoprint, the first print runs with the wrong temperatures. I've only one profile with PLA (tool 200°C and bed 60°C). When I set the profile in "Cible", values are correct. When I run a gcode file containing the exact same values (1) the tool sets its temperature to 60°C and Bed to 100°C (may be the max of the bed). So I stop the job because values are wrong. I set once again "Cible" to my PLA profile, values are correct. I run once again the same code and values on tool and bed are then ok. It happens all the time after the first Octoprint boot.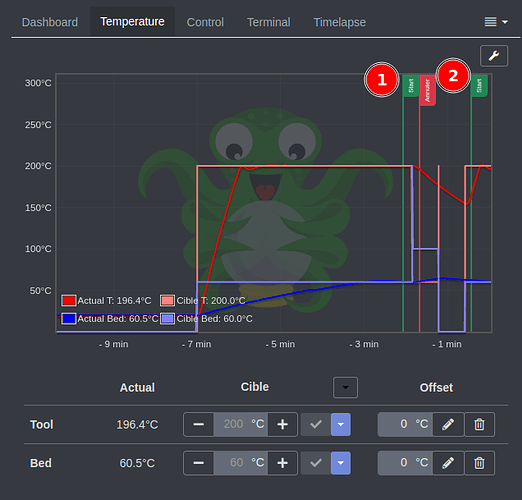 What did you already try to solve it?
Stop and re-run the same job makes it work.
Have you tried running in safe mode?
no
Did running in safe mode solve the problem?
did not tested
Systeminfo Bundle
octoprint-systeminfo-20221010091307.zip (31.6 KB)
Additional information about your setup
Octoprint 1.8.4
Raspberry Pi 3 B
Ultimaker Cura 5.1.1
Creality CR-10 Smart Pro
Google Chrome Version 106.0.5249.91 (Official Build) (64-bit)
Linux Arch