Hi everyone, I am having the darndest time getting my octoprint on Raspberry Pi 4 connected to my Google Wifi network. I am able to access it through ethernet but I cant have this as a permanent thing.
What did you already try to solve it?
I have reflashed the Octopi image and made sure I was using the correct editor as well as I have looked through so many forums on here in order to not waste anyone's time but I cant seem to get this figured out.
This is my octopi-wpa-supplicant.txt file: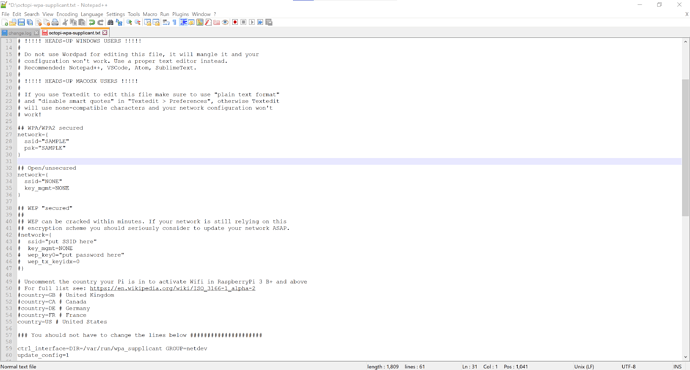 Not sure my Google Wifi is the problem or not. I have figured out my octoprint has a dynamic ip, not sure if thats a problem.
Some of the solutions I've came across are: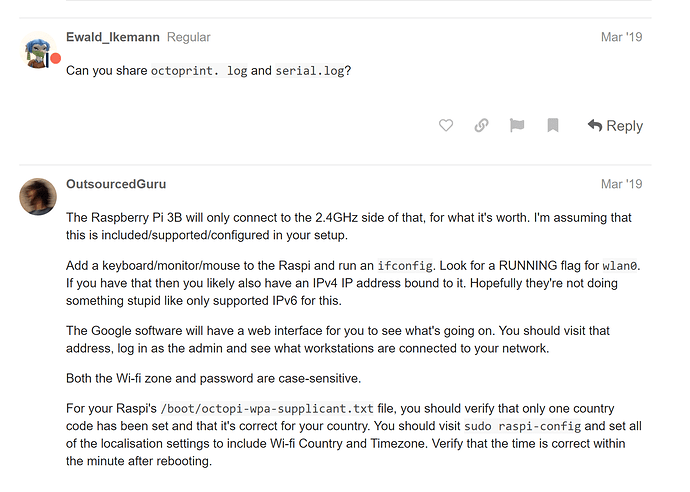 I'm not sure how to run those commands if its on the raspberry pi, octoprint or on my computer using a specific program besides the command line.
I've also seen a recommendation to have the raspberry pi scan for wifi zones and see if my network shows up but I'm not sure how to run that.
Complete Logs
octoprint.log, serial.log or output on terminal tab at a minimum, browser error console if UI issue ... no logs, no support! Not log excerpts, complete logs.)
I tried to provide logs but it said it was too long so ill respond to this with logs.
Additional information about your setup
OctoPrint version, OctoPi version, print
browser.user_agent: Mozilla/5.0 (Windows NT 10.0; Win64; x64) AppleWebKit/537.36 (KHTML, like Gecko) Chrome/88.0.4324.190 Safari/537.36
connectivity.connection_check: 8.8.8.8:53
connectivity.connection_ok: true
connectivity.enabled: true
connectivity.online: true
connectivity.resolution_check: octoprint.org
connectivity.resolution_ok: true
env.hardware.cores: 4
env.hardware.freq: 1500
env.hardware.ram: 3959984128
env.os.bits: 32
env.os.id: linux
env.os.platform: linux
env.plugins.pi_support.model: Raspberry Pi 4 Model B Rev 1.2
env.plugins.pi_support.octopi_version: 0.18.0
env.plugins.pi_support.throttle_state: 0x0
env.python.pip: 20.3.3
env.python.version: 3.7.3
env.python.virtualenv: true
octoprint.safe_mode: false
octoprint.version: 1.5.3
printer.firmware: Marlin Ver 1.0.2

Any help would be appreciated. Thank you in advance.serial.log (148 Bytes) octoprint.log (116.1 KB)