What is the problem?
Hello

I have 2 problems but really only need one solved. Haha. I'm trying to push my sliced gcodes trough the Octoprint API. I'm using this piece of code:
curl -k -H "X-Api-Key: AAAAAAAAAAAAAAAA" -F "select=false" -F "print=false" -F "file=@[output_filepath]" "http://192.168.178.42:80/api/files/local"
The slicer didn't give any error or anything. Everything seems to be working. But nothing arrives in my octoprint files directory. I used this exact script before and it worked. But I just reinstalled Windows 10 Pro and set everything up. So I guess I am missing something or doing something wrong. I followed the tutorial on github, installed CURL (downloaded the Zip, moved the 2 files into System32, ran Curl from command line to check if its there).
When I manually run the script in CMD I get the following message:
C:\Users\Tronnic>curl -k -H "X-Api-Key: AAAAAAAAAAAA" -F "select=false" -F "print=false" -F "file=@[output_filepath]" "http://192.168.178.42:80/api/files/local"
curl: (26) couldn't open file "[output_filepath]"
I also installed CURL & my slicer on another machine to see if there is something wrong with my computer, but I have the exact same problem there. Any help on this would be very greatly appreciated.
So since I couldn't get this to work I thought I'll just mount the "watched" folder as an Windows Network Drive. This would solve my problem as well. This worked after some tinkering. I can drag&drop files in there no problem. But when I try to save my gcode from the slicer into the drive I am somehow unable to select it. This is not just from the slicer but also for some other programms I tested with. The connected Networkdrive doesn't show up in the Window. When I manually write the path in the top navigation bar, I get an error saying that the File was not found: (Notice the little "?" on the yellow marked section on the left)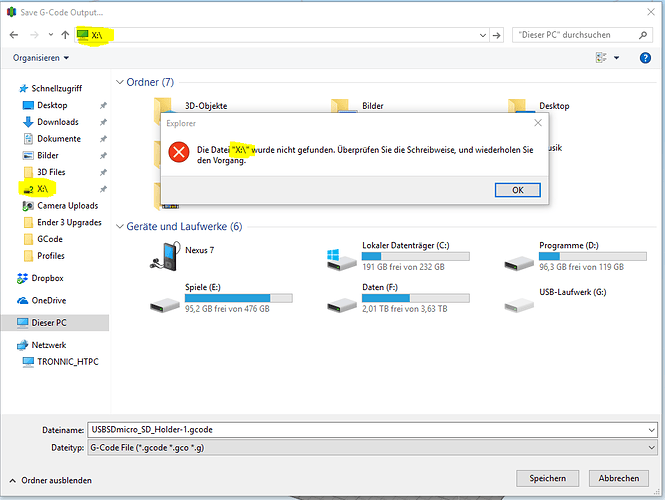 This is what my "Computer" normally looks like: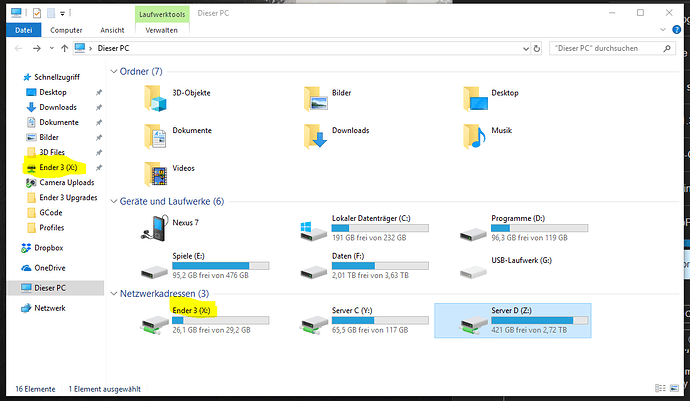 So I'm out of ideas now. I know its not a big deal to drag and drop a file into the browser. But it was so convenient before to just be able to save the gcode and it would pop up within octoprint. Now I have to save the file, navigate to it, find my octoprint tab next to 20 other tabs and drag it in there.
Any help would be greatly appreciated! Thank you alot

What did you already try to solve it?
See above
Additional information about your setup
OctoPrint: 1.3.8 (Can't upgrade to 1.3.9 because of TouchUI bug)
Octopi: 0.15.1
Printer: Creality Ender 3
Firmware: Marlin