Printer heats the BED, then trys to heats HOTEND, stays frozen at 0 degree target temperature and moves X Axis just 200mm
Changing the Serialparameters, increased the timeout settings, Upgrading and Downgrading from 1.3.12 to 1.4.0, complete clean install of Octopi 1.3.12 without anything
I then get these error messages: Communication timeout while printing, trying to trigger response from printer. Configure long running commands or increase communication timeout if that happens regularly on specific commands or long moves.
Send: N22 M105*23)
Octopi 0.17 without anything, with Marlin 2.0 on a SKR 1.3 Board)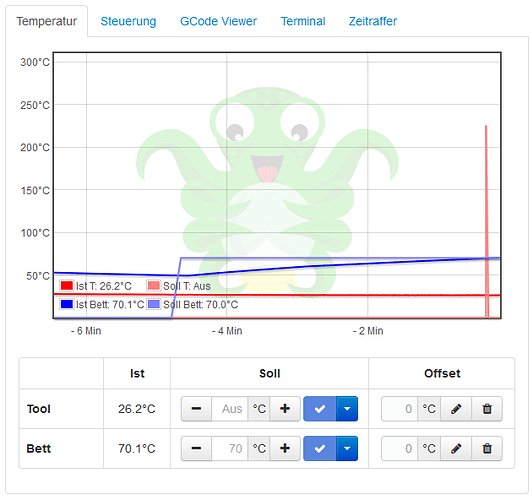 I already printed with this setup 3 Days ago. The only thing i changed, was to install the hue gcode plugin, but it seems to work fine.
I first removed this plugin and hope that solves the problem, but did not fixed it.
I'm using Octoscreen and after boot of the Raspberry and Showing the Octoscreen Touchinterface i can heatup the hotend without issues and i also can heat up the bed without issue.
I have a start script, that will start bed leveling, after connecting to the printer. Thats working fine too. So hard should not be the problem in my opinion.
But i really have absolutly no idea where i should investigate at. I already changed the cable to an older one, i used with my previous printer. but its exactly the same error.
The only way is to shut everything hard off.
Would be really happy if someone had an idea where to start from.
octoprint.log (61.5 KB) serial.log (148 Bytes)
Communication logging:
serial_communication.log (56.7 KB)