This is a really quick and dirty set of measurements from my new shield, using it to see when undervoltage is happening. This happened while 'backpowering' my shield- instead of using it to provide power to the Pi, I was just using it to measure the voltage supplied to the Pi. That's why the power usage numbers are negative.
Bus Voltage:    4.864 V
Supply voltage: 4.816 V
Bus Current:    -2.287 mA
Power:          39.634 mW
Shunt voltage:  -0.050 mV

throttled=0x50000
 False <class 'bool'>
lowest:             4.61597
lowest unthrottled: 4.65595
highest throttled:  4.86797

The system was right on the edge of being throttled, so it was bounching from 5000 to 5005 all the time. What's interesting to me is the "lowest unthrottled" / "highest throttled" voltages overlap by quite a bit. It must be the difference between what is sitting on the bus and what is seen inside the chip.
Here are two copies of the power shield. I'm only connecting 6 pins on the bottom because I'm lazy and it requires a lot more soldering to do so. The next iterations will add a fan controller and re-add MOSFETs for controlling some lights.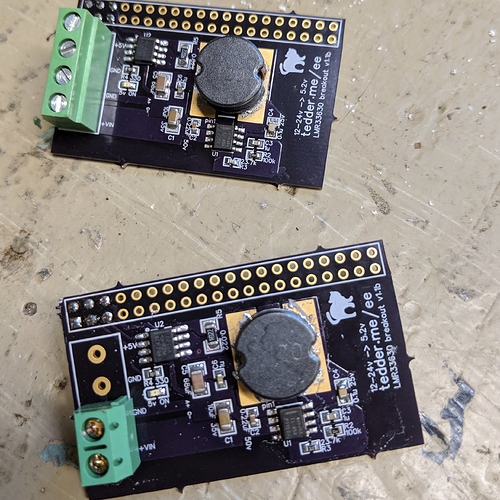 FWIW, here are the measurements when running on my shield. Pretty much perfect- I designed it to give 5.2v.
Bus Voltage:    5.192 V
Supply voltage: 5.201 V
Bus Current:    434.451 mA
Power:          2371.951 mW
Shunt voltage:  10.170 mV