What is the problem?
2 days ago, after installing my new enclosure for my ender 3 pro and lifting it in, while also changing my nozzle, and connecting a new webcam I was suddenly no longer able to connect my Ender 3 Pro to my raspberry pi. It has been working for months up until now, but whatever I try now, I get the following error:
State: Offline (Error: No more candidates to test, and no working port/baudrate combination detected.)

What did you already try to solve it?
For all tests, I disconnected the new webcam and there were no devices other than the printer connected to the pi (The webcam stream worked by the way)
Booting in safe mode
Changing the cable, I tried 4 different cables, I don't think they are non-data cables, is there any way for me to find out? The one I was using worked up untill now, so I don't know if it is possible that the 'data' part of it broke?
Connecting my printer to my computer (Windows 10). Windows recognizes a device but has an issue in my device manager, I get this error:
Driver Provider: Microsoft
Driver Section: BADDEVICE.Dev.NT
Driver Rank: 0xFF0000
Matching Device Id: USB\DEVICE_DESCRIPTOR_FAILURE
Outranked Drivers: usb.inf:USB\DEVICE_DESCRIPTOR_FAILURE:00FF2000
Device Updated: false
Parent Device: USB\ROOT_HUB30\4&f01e21b&0&0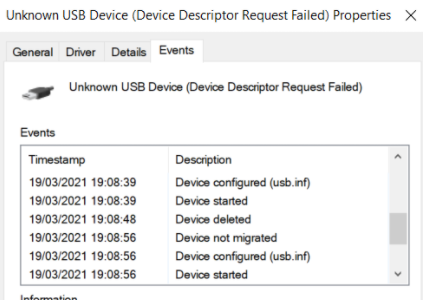 Have you tried running in safe mode?
Yes
Did running in safe mode solve the problem?
No
Complete Logs
octoprint (1).log (449.1 KB) serial (2).log (4.6 KB)
Additional information about your setup
browser.user_agent: Mozilla/5.0 (Windows NT 10.0; Win64; x64) AppleWebKit/537.36 (KHTML, like Gecko) Chrome/89.0.4389.90 Safari/537.36
connectivity.connection_check: 192.168.1.202:53
connectivity.connection_ok: true
connectivity.enabled: true
connectivity.online: true
connectivity.resolution_check: octoprint.org
connectivity.resolution_ok: true
env.hardware.cores: 4
env.hardware.freq: 1500
env.hardware.ram: 1979641856
env.os.bits: 32
env.os.id: linux
env.os.platform: linux2
env.plugins.pi_support.model: Raspberry Pi 4 Model B Rev 1.1
env.plugins.pi_support.octopi_version: 0.17.0
env.plugins.pi_support.throttle_state: 0x0
env.python.pip: 19.3.1
env.python.version: 2.7.16
env.python.virtualenv: true
octoprint.safe_mode: false
octoprint.version: 1.5.3
My printer is the Ender 3 Pro with the BLtouch. I flashed the firmware once with the BLtouch firmware as Creality had explained in the video. I no longer know the exact version and since I can't connect my printer anymore I can't see it. I would not expect it to be a firmware issue since it was working fine, and suddenly without any changes to my printer it stopped working.
I can't seem to figure out the issue for the life of me, the only option I can think of something to try still is to re flash my firmware of the printer, that it got corrupted somehow, but I don't even know if this is possible from just moving my printer?
Another other possibility is that of the 4 cables, only the original cable is a data cable and the 3 others are not, and by moving it I broke the original cables data part. It was still powering my printer before I covered the 5V pin though, so its not like the cable was entirely broken (I don't see any loose parts in the cable either)
Am I missing anything, or is there anything else I should try still before re flashing the firmware / buying a new usb cable?