What is the problem?
Followed the steps outlined on the Octoprint page to flash the latest Octopi onto microSD. Then setup Octoprint with printer (Prusa MK3) and my user profiles. Webcam feed appears to work fine. However, the problem arises when trying to send temperature or gcode to my MK3 using a Raspberry Pi 3B via WiFi. Octoprint will display that it is printing or that there is a connection, but when sending temperature commands to the printer, you get no response from it. Upon connecting using auto serial port and auto baud rate, the printer will respond by turning the fan on and then show that there is a connection. I've attached the log and serial files. Please let me know if I can provide any more info.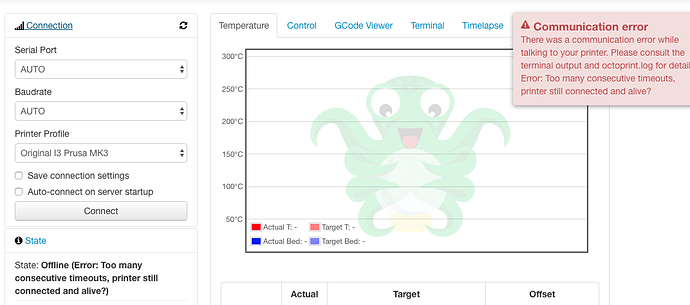 What did you already try to solve it?
Browse various forums and ask for help on r/Prusa3D
Additional information about your setup (OctoPrint version, OctoPi version, printer, firmware, octoprint.log, serial.log or output on terminal tab, ...)
OctoPrint 1.3.9 running on OctoPi 0.15.1 on a Original I3 Prusa MK3 single extruder.
octoprint.log (25.0 KB)
serial.log (2.4 KB)
(updated)
Possibly related to the issue referenced below? I'm also running Firmware 3.4.1 on my MK3.