What is the problem?
Ever since using Octoprint to monitor and print on my Ender 3 V2, surface quality of my prints has gone down noticeably.
What did you already try to solve it?
Sadly I changed a lot of variables at the same time, but I've currently ruled out the others and pinned it down on Octoprint:
I installed an all metal extruder, Capricorn Bowden tube, new nozzle and Octoprint (via Raspberry Pi4 4GB). Up until then, my Ender 3 V2 ran mostly stock, and had good quality prints.
After the upgrade, my first regular print looked worse than usual (see picture of treetrunks below). So I printed a Benchy, and that too looked much worse. So I started troubleshooting.
I've run esteps calibration, temperature calibration, retraction calibration, levelling the bed, ... several times. I've taken out the Capricorn tube and reinstalled the old one. I've replaced the metal extruder with the old plastic extruder. I've changed the nozzle again. (Running esteps calibration after every change). Currently it is running with the stock plastic extruder, and the only difference with the stock machine is a Capricorn tube and a new nozzle (in the same 0.4mm diameter).
At that point I realised I had not ruled out one other variable: Octoprint. So I unplugged the RP4 and printed the gcode I used before for a Benchy, without reslicing it. Came out looking as it did before all the changes.
So it's the RPi4/Octoprint. I've read here and there online that people had issues, and that it is likely due to the buffer being full when printing lots of short segments (like the curved bow of a benchy...). I've equally read that those are ghost stories. But in that case I can tell you I've been seeing a ghost for the past 2 days. One that's driven me up the walls...
Question is: what is the best current solution to this? I've seen some suggestions spread around the internet, but those were often for older firmwares/older Octoprint versions/older RP versions, and not always as clear as I'd like as a newbie to FDM-printing. I'd really like to use Octoprint (on the RP4, I don't have other spare hardware laying around), for its monitoring, logging and spool management features.
Systeminfo Bundle
octoprint-systeminfo-20210503224130.zip (308.4 KB)
Additional information about your setup
Running Octoprint 1.6.0 on a Raspberry Pi 4 - 4GB. Ender 3 V2 is running Creality firmware v1.0.2. Octoprint has a webcam connected to it, and I've installed several plugins (mostly for logging/gui changes). The RP4 also controls two LED's on the frame of my Ender to provide light when I'm inspecting it through the webcam when it's dark. I'm not using any timelapses. Prints are just uploaded directly from Creality Slicer, or by dragging/dropping the gcode in Octoprint. I'm not running any specific (custom) code during the print, at least none that I introduced (not sure if plugins can do that).
Pictures (left = good, without Octoprint, right = bad, with Octoprint)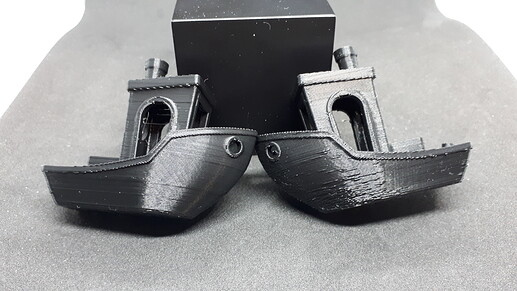 (I had more pictures but as a new user I'm limited)