What is the problem?
Hello, Let me start off by saying I'm new to 3D Printing. I got my First Printer about 10 days ago.
I have a Creality CR-10S Pro V2. I have Octo Pi installed on a Raspberry Pi 4 8g. Everything went fine. Octo print see's my printer. The printer works fine 100% of the time when I print or do something from the Printer it'self. Once I try to print through Octo Print Dash board the printer heats up the bed and then the Element to temperature settings and Fails with the Error: Probing Failed! I will include the terminal out put from this happening. Any Help would be great.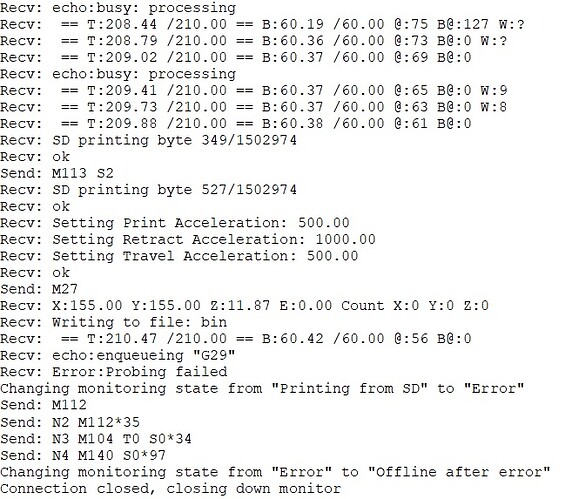 What did you already try to solve this?
I check You tube every where. Tried blocking power on the USB cable to the printer.
Have you tried running in safe mode?
Yes
Did running in safe mode solve the problem?
No had same result.
Systeminfo Bundle
You can download this in OctoPrint's System Information dialog ... no bundle, no support!)
octoprint-systeminfo-20221105002816.zip (669.7 KB)
Additional information about your setup
OctoPrint version, OctoPi version, printer, firmware, browser, operating system, ... as much data as possible
OctoPrint Version: Version 1.8.6 OctoPi Version 0.18.0 Printer is a Creality CR-10S Pro V2
Firmware on printer is Ver 1.0.0 BL Browser is Chrome I'm using Windows 10 Pro as my OS on my pc.