What is the problem?
I have an Ender 3 Pro and picked up a Kindle Fire HD 8 to run Octo4a on to run Octoprint on my printer. However, when I connect, I get the following error: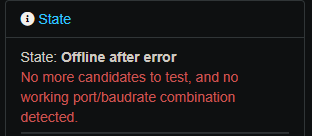 What did you already try to solve it?
I've tried safe mode and restarting all devices.
Have you tried running in safe mode?
Yes
Did running in safe mode solve the problem?
No
Systeminfo Bundle
You can download this in OctoPrint's System Information dialog ... no bundle, no support!)
WRITE HERE
Additional information about your setup
OctoPrint version, OctoPi version, printer, firmware, browser, operating system, ... as much data as possible
Here are the logs from the most recent restart of everything:
Changing monitoring state from "Offline" to "Detecting serial connection"
Performing autodetection with 7 port/baudrate candidates: /dev/ttyOcto4a@115200, /dev/ttyOcto4a@250000, /dev/ttyOcto4a@230400, /dev/ttyOcto4a@57600, /dev/ttyOcto4a@38400, /dev/ttyOcto4a@19200, /dev/ttyOcto4a@9600
Trying port /dev/ttyOcto4a, baudrate 115200
Connecting to port /dev/ttyOcto4a, baudrate 115200
Handshake attempt #1 with timeout 2.0s
Connected to: Serial<id=0xf05a9568, open=True>(port='/dev/ttyOcto4a', baudrate=115200, bytesize=8, parity='N', stopbits=1, timeout=2.0, xonxoff=False, rtscts=False, dsrdtr=False), starting monitor
Send: N0 M110 N0*125
Handshake attempt #2 with timeout 2.0s
Send: N0 M110 N0*125
Handshake attempt #3 with timeout 2.0s
Send: N0 M110 N0*125
Trying port /dev/ttyOcto4a, baudrate 250000
Handshake attempt #1 with timeout 2.0s
Send: N0 M110 N0*125
Handshake attempt #2 with timeout 2.0s
Send: N0 M110 N0*125
Handshake attempt #3 with timeout 2.0s
Send: N0 M110 N0*125
Trying port /dev/ttyOcto4a, baudrate 230400
Handshake attempt #1 with timeout 2.0s
Send: N0 M110 N0*125
Handshake attempt #2 with timeout 2.0s
Send: N0 M110 N0*125
Handshake attempt #3 with timeout 2.0s
Send: N0 M110 N0*125
Trying port /dev/ttyOcto4a, baudrate 57600
Handshake attempt #1 with timeout 2.0s
Send: N0 M110 N0*125
Handshake attempt #2 with timeout 2.0s
Send: N0 M110 N0*125
Handshake attempt #3 with timeout 2.0s
Send: N0 M110 N0*125
Trying port /dev/ttyOcto4a, baudrate 38400
Handshake attempt #1 with timeout 2.0s
Send: N0 M110 N0*125
Handshake attempt #2 with timeout 2.0s
Send: N0 M110 N0*125
Handshake attempt #3 with timeout 2.0s
Send: N0 M110 N0*125
Trying port /dev/ttyOcto4a, baudrate 19200
Handshake attempt #1 with timeout 2.0s
Send: N0 M110 N0*125
Handshake attempt #2 with timeout 2.0s
Send: N0 M110 N0*125
Handshake attempt #3 with timeout 2.0s
Send: N0 M110 N0*125
Trying port /dev/ttyOcto4a, baudrate 9600
Handshake attempt #1 with timeout 2.0s
Send: N0 M110 N0*125
Handshake attempt #2 with timeout 2.0s
Send: N0 M110 N0*125
Handshake attempt #3 with timeout 2.0s
Send: N0 M110 N0*125
Changing monitoring state from "Detecting serial connection" to "Error"
Changing monitoring state from "Error" to "Offline after error"
Connection closed, closing down monitor
Changing monitoring state from "Offline" to "Detecting serial connection"
Performing autodetection with 7 port/baudrate candidates: /dev/ttyOcto4a@115200, /dev/ttyOcto4a@250000, /dev/ttyOcto4a@230400, /dev/ttyOcto4a@57600, /dev/ttyOcto4a@38400, /dev/ttyOcto4a@19200, /dev/ttyOcto4a@9600
Trying port /dev/ttyOcto4a, baudrate 115200
Connecting to port /dev/ttyOcto4a, baudrate 115200
Handshake attempt #1 with timeout 2.0s
Connected to: Serial<id=0xf0a5f148, open=True>(port='/dev/ttyOcto4a', baudrate=115200, bytesize=8, parity='N', stopbits=1, timeout=2.0, xonxoff=False, rtscts=False, dsrdtr=False), starting monitor
Send: N0 M110 N0*125
Handshake attempt #2 with timeout 2.0s
Send: N0 M110 N0*125
Handshake attempt #3 with timeout 2.0s
Send: N0 M110 N0*125
Trying port /dev/ttyOcto4a, baudrate 250000
Handshake attempt #1 with timeout 2.0s
Send: N0 M110 N0*125
Handshake attempt #2 with timeout 2.0s
Send: N0 M110 N0*125
Handshake attempt #3 with timeout 2.0s
Send: N0 M110 N0*125
Trying port /dev/ttyOcto4a, baudrate 230400
Handshake attempt #1 with timeout 2.0s
Send: N0 M110 N0*125
Handshake attempt #2 with timeout 2.0s
Send: N0 M110 N0*125
Handshake attempt #3 with timeout 2.0s
Send: N0 M110 N0*125
Trying port /dev/ttyOcto4a, baudrate 57600
Handshake attempt #1 with timeout 2.0s
Send: N0 M110 N0*125
Handshake attempt #2 with timeout 2.0s
Send: N0 M110 N0*125
Handshake attempt #3 with timeout 2.0s
Send: N0 M110 N0*125
Trying port /dev/ttyOcto4a, baudrate 38400
Handshake attempt #1 with timeout 2.0s
Send: N0 M110 N0*125
Handshake attempt #2 with timeout 2.0s
Send: N0 M110 N0*125
Handshake attempt #3 with timeout 2.0s
Send: N0 M110 N0*125
Trying port /dev/ttyOcto4a, baudrate 19200
Handshake attempt #1 with timeout 2.0s
Send: N0 M110 N0*125
Handshake attempt #2 with timeout 2.0s
Send: N0 M110 N0*125
Handshake attempt #3 with timeout 2.0s
Send: N0 M110 N0*125
Trying port /dev/ttyOcto4a, baudrate 9600
Handshake attempt #1 with timeout 2.0s
Send: N0 M110 N0*125
Handshake attempt #2 with timeout 2.0s
Send: N0 M110 N0*125
Handshake attempt #3 with timeout 2.0s
Send: N0 M110 N0*125
Changing monitoring state from "Detecting serial connection" to "Error"
Changing monitoring state from "Error" to "Offline after error"
Connection closed, closing down monitor