Hi everybody!
I'm new to Raspberry / Linux and hope that you can help me with my problem...
What is the problem?
I'm already using OctoPrint for a while, but now I can't get access to the web-interface.
I just see the page " The OctoPrint server is currently not running". The last time it worked was on 2020-06-08 via Telegram Plugin (see logs).
What did you already try to solve it?
I logged in to the Pi via SSH and directly via monitor and keyboard. Then I tried to verify if a process is running with the following code, but nothing happened.
ps -ef | grep -i octoprint | grep -i python
Logs
Please see the attached screenshot.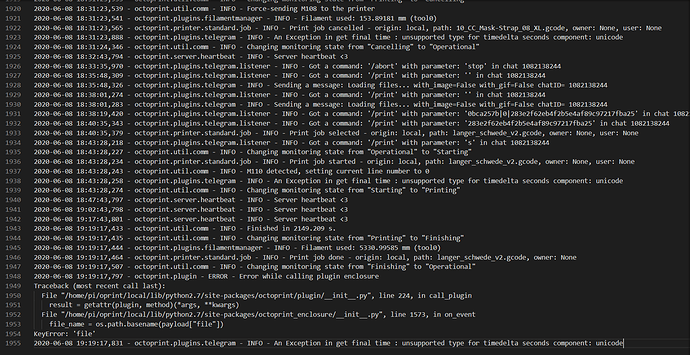 Additional information about your setup
Printer: Anet A8
Firmware: Marlin
Raspberry: 3B+
OctoPrint Vers.: 1.4.0
OctoPi Vers.: 0.17.0
Browser: Firefox
Thank you very much in advance for any help!