I am trying to set up octoprint on my raspberry pi b+, but it fails to boot everytime I plug it in. I followed the directions exactly, and I have the latest version of octoprint. I have tried plugging in a keyboard and monitor to troubleshoot and this is the screen I get: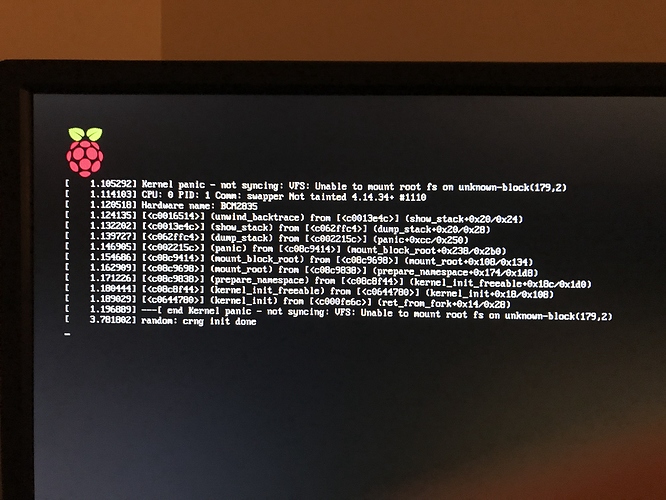 Things I have done to troubleshoot:
formatted and reimaged the card many times, using both Etcher and win32
replaced the sd card and power supply
downloaded the most recent and older versions of octoprint
everything on the wifi troubleshooting page pretty much
ATTEMPTED: the steps to fix kernel panic (179,2), but my keyboard and my roommates keyboards won't type anything
Installing NOOBS to see if it was my pi, but NOOBS ran perfectly (including my keyboard)
Wifi adapter has worked on the pi before, and currently works on my desktop
plugged in Ethernet instead of wifi adadapter
But everything results in this same screen...
I am using octopi 0.15.1 on a raspberry pi b+ v1.2. My power cord is 5.1v and 2.5A. My sd card is samsung evo plus 32 gb. My printer is a monoprice select mini v2.
I feel like I have tried everything and am getting pretty frustrated at this point, so thanks in advance for any help.