What is the problem?
I can connect to my Ender Pro ok (based on the serial.log) but the 'state' never changes and all relevant buttons (such as print or terminal input) are greyed out. There is no temp being shown even though it is being reported.
What did you already try to solve it?
I have read the logs in detail. I do not see any options in the configs related to this problem. I have tried 1.5.3 dev builds as well.
Have you tried running in safe mode?
Yes
Did running in safe mode solve the problem?
It made no difference
Additional information about your setup
OctoPrint version, OctoPi version, printer, firmware, browser, operating system, ... as much data as possible
OctoPrint version: 1.5.3
OctoPi version: 0.18.0
printer: Ender 3d Pro
firmware: Marlin Creality 3D 1.0.1
browser: chrome and safari
MacOSserial (55).log (36.6 KB) octoprint (29).log (2.6 MB)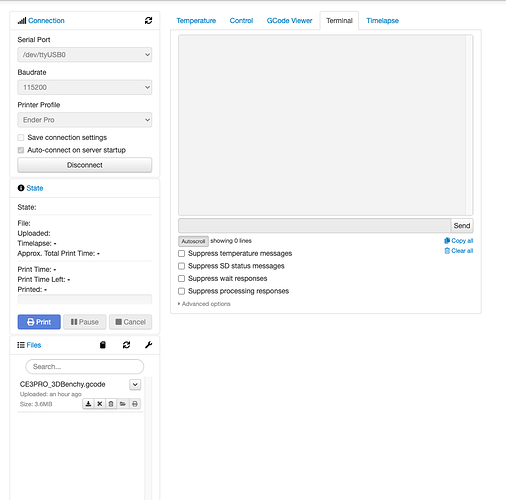 chrome-console.log
(20.0 KB)