Camera model
ArduCam B0390 - 8 MP IMX219
What is the problem?
I believe the problem is somewhere between libcamera and webcamd but I don't know for certain.
I can take still pictures with my camera using libcamera-still -o test.jpg if I sudo systemctl stop webcamd first, but the live feed doesn't show up in /#control or /webcam/, for example: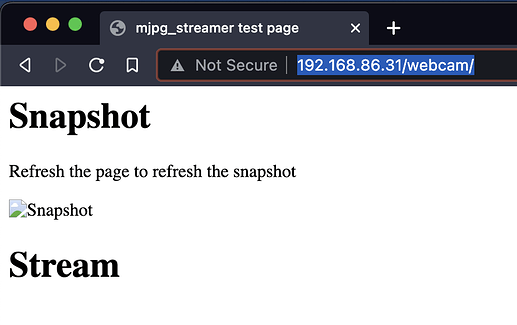 What did you already try to solve it?
Tweaking configs, following the various sets of instructions for my camera and cameras that were similar. Mainly here and here.
Logs (/var/log/webcamd.log, syslog, dmesg, ... no logs, no support)
octoprint-systeminfo-20220724215040.zip (73.6 KB)
Additional information about your setup (OctoPrint version, OctoPi version, ...)
pi@octopi:~ $ vcgencmd get_camera
supported=1 detected=0, libcamera interfaces=1

I installed a nightly for 2022-07-24 due to ArduCam saying they need Debian Bullseye. At one point I had tried taking the stable version of ArduCam and rolling it forward to Bullseye but I ran into configuration issues with haproxy mainly.
But here's what it says on startup:
OctoPrint version : 1.8.1
OctoPi version : 1.0.0
Thanks for reading and I appreciate any and all help