I am running OctoPi latest version on the RaspberryPi imager.
What is the problem?
I get the message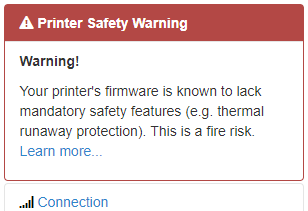 Given this is fairly old thread now, I wondered if the error for my printer is correct and if so, what can I do about it.
I had a look at the Marlin code which is now at Ver 2.1.2 and checked against a dump of the firmware from my printer, which is a Spark 3D SP1
Here is the dump
Recv: FIRMWARE_NAME:Marlin 1.0.0 (Jan 3 2023 16:36:48) SOURCE_CODE_URL:GitHub - MarlinFirmware/Marlin: Marlin is an optimized firmware for RepRap 3D printers based on the Arduino platform. | Many commercial 3D printers come with Marlin installed. Check with your vendor if you need source code for your specific machine. PROTOCOL_VERSION:1.0 MACHINE_TYPE:Voxlab-1 V1 EXTRUDER_COUNT:1 UUID:cede2a2f-41a2-4748-9b12-c55c62f367ff
Recv: Cap:SERIAL_XON_XOFF:0
Recv: Cap:BINARY_FILE_TRANSFER:0
Recv: Cap:EEPROM:1
Recv: Cap:VOLUMETRIC:1
Recv: Cap:AUTOREPORT_TEMP:1
Recv: Cap:PROGRESS:0
Recv: Cap:PRINT_JOB:1
Recv: Cap:AUTOLEVEL:1
Recv: Cap:RUNOUT:0
Recv: Cap:Z_PROBE:1
Recv: Cap:LEVELING_DATA:1
Recv: Cap:BUILD_PERCENT:0
Recv: Cap:SOFTWARE_POWER:0
Recv: Cap:TOGGLE_LIGHTS:0
Recv: Cap:CASE_LIGHT_BRIGHTNESS:0
Recv: Cap:EMERGENCY_PARSER:0
Recv: Cap:PROMPT_SUPPORT:0
Recv: Cap:SDCARD:1
Recv: Cap:AUTOREPORT_SD_STATUS:0
Recv: Cap:LONG_FILENAME:0
Recv: Cap:THERMAL_PROTECTION:1
Recv: Cap:MOTION_MODES:0
Recv: Cap:ARCS:1
Recv: Cap:BABYSTEPPING:1
Recv: Cap:CHAMBER_TEMPERATURE:0
Recv: ok
Send: M155 S2
Recv: ok
I have contacted the vendor but as yet have received no reply.
If you note, it says thermal protection is on, but in the Marlin V2.1.2 the #define THERMAL_PROTECTION does not exist and is more specific.
Reading up on the differences it does state that Marlin 2.1.2 is vastly different to Marlin 1
In fact the definitions in V2.1.2 are:
#define THERMAL_PROTECTION_HOTENDS // Enable thermal protection for all extruders
#define THERMAL_PROTECTION_BED // Enable thermal protection for the heated bed
#define THERMAL_PROTECTION_CHAMBER // Enable thermal protection for the heated chamber
#define THERMAL_PROTECTION_COOLER // Enable thermal protection for the laser cooling
Given I have not found a version 1 Marlin file, could you tell me if the dump file is correct and Thermal Protection is actually on?