What is the problem?
My gcode file size is about 70Mb. Recently, I found that after uploading the G-code file, the CPU utilization rate almost reaches 100%, and it has been maintained for a long time before it can return to the normal 7%
What did you already try to solve it?
If the size of the uploaded file is smaller, such as about 20Mb, this state will recover to 7% in about 30 seconds.
Have you tried running in safe mode?
YES,remain the same
Did running in safe mode solve the problem?
No.
Systeminfo Bundle
You can download this in OctoPrint's System Information dialog ... no bundle, no support!)
octoprint-systeminfo-20220106182343.zip (115.4 KB)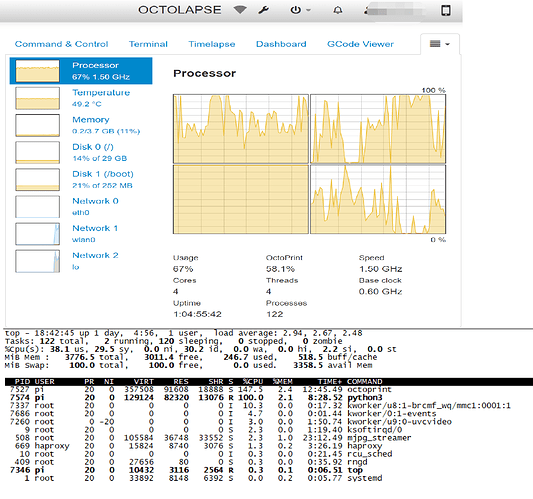 Additional information about your setup
OctoPrint version, OctoPi version, printer, firmware, browser, operating system, ... as much data as possible
OctoPrint 1.7.2 Python 3.7.3 OctoPi 0.18.0
OctoPi version:Raspberry Pi 4 Model B Rev 1.2
printer:UM2+
firmware:Marlin Ultimaker2; Sprinter/grbl mashup for gen6 FIRMWARE_URL:http://github.com/Ultimaker PROTOCOL_VERSION:1.0 MACHINE_TYPE:Ultimaker EXTRUDER_COUNT:1,
browser:Google Chrome,version:96.0.4664.110,
operating system:windows10
WRITE HERE