What is the problem?
Not new to 3D printing, although this is the first 3D printer that I have bought for myself and set up. (I had only used the ones at work before) I have not printed anything as of yet, because I first wanted to get my whole setup ready. I built an enclosure for it, ordered filament, ect. In preperation. I got down to the last step-octoprint, and that's where everything went downhill. The octopi software booted right up and I was able to connect to it by http://octopi.local and set everything up, but for some reason I can not connect to my printer. I know that this issue has happened before, believe me, I have scoured the internet before resorting to posting here. The answer is always the same. "Replace the USB cable" I have done so with about 10 usb cables by now and none of them work. I did however find a usb cable with a tag on it though, and was able to look up the part number to find that it is in fact both charging and data. I also know it is data because when I use the same cable, I can connect to cura on my Windows 11 pc just fine, and can control the printer. I really do not know what to do, I know that my raspberry pi works, because I have used it for projects in the past.
What did you already try to solve it?
Swap USB cables
Followed steps in the FAQ like "wait for start on connect", ect.
Re-flash the octopi image
Logs (syslog, dmesg, ... no logs, no support)
octoprint.log (29.2 KB)
octoprint-systeminfo-20230305224502.zip (13.4 KB)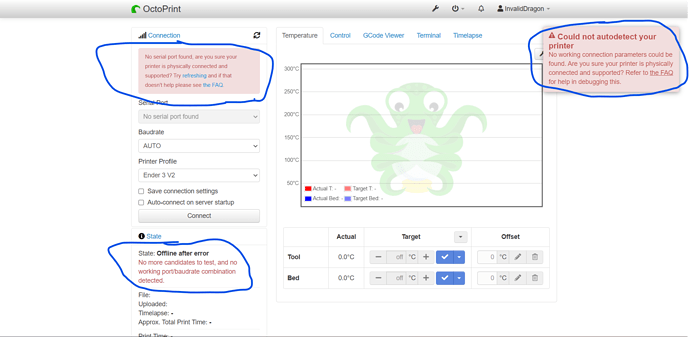 Additional information about your network (Hardware you are trying to connect to, hardware you are trying to connect from, router, access point, used operating systems, ...)
I tried using both a 4G and a 5G network, neither changed any connectivity's to the printer, so I really don't think it's a network issue, but this was the closest sub-forum I could think to put it in. Mods, feel free to move it though.
Please let me know if there is any other information I need to provide!