Hello all,
I'm not a cheap person, but one that specifies system setups to the proper scale.
I'm the proud new owner of an Ender3 v.2, along with an Ender3 Pro, and a (very sick) Monoprice Mini v.1. I've been happily running Octoprint on the same 2 Raspberry Pi devices for 2+ years.
I'm a retired Systems & Network Engineer (of ~27 years). I use simple Pi 3A+'s on both my Ender3 printers (the MP Mini is doa right now). I use a 64GB High-Speed ScanDISK or Samsung SD cards. You can really notice the speed!
I use Cura 4.8 as a slicer. I've installed a variety of editing tools. Blender, Libre-CAD, FreeCAD, Fusion360 (free version) & some others. I use Tinkercad for 1st pass object design. Then I use FreeCAD or F360, Blender still scares me! LOL
I have an Ubuntu 20.10 HP desktop with 32MB RAM and a 1TB SSD and a 2TB HHD, 750MB USB3 HDD. Space isn't an issue.
I have an HP "Rizen 5" with 32GB RAM, a 128MB SSD, and a 2TB HHD. The 128 is not enough.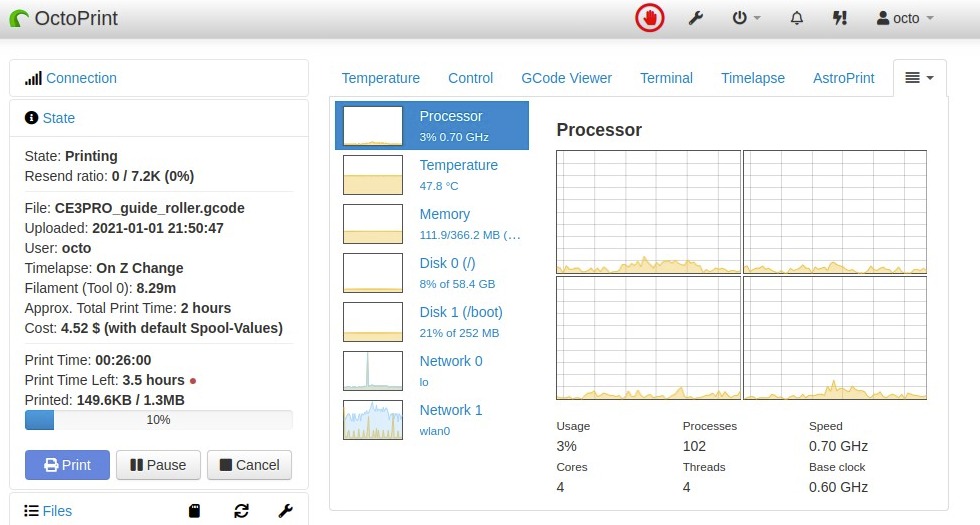 The newest version of (stable) Octoprint, works great! It DOES NOT tax my system. I use a single Pi-Camera. Right now I'm printing 15+ hours a day & my systems are NEVER taxed.
You don't need a "monster 8GB Pi 4". No, a Pi Zero W won't cut it. But the 3A+ is plenty of machine. See the attached system monitor screenshot.