### What is the problem?
Connecting OctoPrint to Creality CR10v3 control box sets bed to 9000 degrees as shown in OctoPrint and displays gibberish on the box screen. If I try to print, X goes out of range and firmware kills print. Everything worked OK before installing official Creality BLTouch firmware. Printer works fine from SD card.
Photo: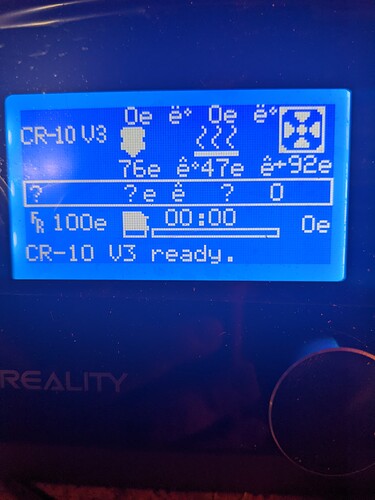 ### What did you already try to solve it?
Completely reinstalled Debian and OctoPrint. Changed USB cable (EDIT: with and without 5V pin blocked). Confirmed printer profile is correct. Tried printing newly sliced file and old one.
### Have you tried running in safe mode?
Yes.
### Did running in safe mode solve the problem?
No.
### Systeminfo Bundle
octoprint-systeminfo-20220207133824.zip (26.9 KB)

### Additional information about your setup
OctoPrint version, OctoPi version, printer, firmware, browser, operating system, ... as much data as possible
Operating System: Debian 11, LXQT, OpenBox.
Computer Acer Aspire One D255 (Atom 1.66Ghz, 2GB Ram, 160GB HDD)
Custom Anything: Created user "pi" to mimic raspbian install instructions/defaults, and enabled passwordless sudo. Installed Falkon browser. Everything else is stock. This computer isn't used for anything else.
Octoprint Version: 1.7.3
Non-Stock Plugins: Convert TF to SD (as prompted by OctoPrint); Simple Emergency Stop; OctoEverywhere!
I'm open to installing different firmware if it's already set up for BLTouch and relatively idiotproof. I've built PC's and have flashed a few Android ROM's but completely new to 3D printers.