Firstly, thank you for accepting me onto this forum.
I hope you can advise me on a problem that I am experiencing, probably not with Octopi, but with some other part of the printing process. I have checked through the forum but cannot find any previous posts on this subject.
On checking a difficult print from my Ender3, I noticed strange irregularities in the extrusion quality, as may be seen in the attached photo.
On checking OctocoPi, I noticed that the Target temp graph lines indicate different target temps in an approx. 8 minute cycle. (and of course, the actual temp follows its command). I have high-lighted Target temp with a yellow high-lighter. See chart attached.
I sliced with Prusa and on checking the gcode and found that M140 was set to M140 S225 correctly at the start of the code, and M140 was not sent again until zero was set at the end of all the code.
Is this strange . . . or not?
Any ideas please?
P.S. I hope that I have provided enough info for you to be able to understand the problem.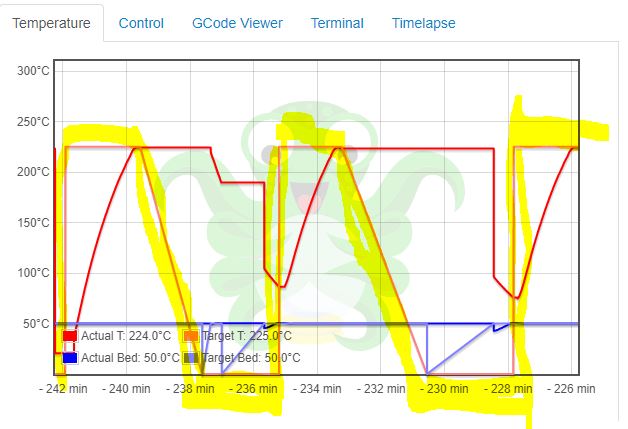 I was not allowed to add the photo of the print, but it shows a strange bubbling of the extrusion which I am putting down to these temperature variations.