Hi @NB4cSUYn,
how is your progress of the history-plugin?
I also started implementing a history-plugin (https://github.com/OllisGit/OctoPrint-PrintJobHistory), because:
I want to implement a "bigger" plugin as in the past. The last released plugins were just smaller improvements
Using of database-communication in python
Implement a plugin with a clean software architecture, like "separation of concern", documentation, project-management stuff
ReUse of already released plugin informations
The backend part is already finished. It collects the following informations and stores the data in a local database:
username
filename/path/size
start/endDateTime, duration
state
bed/nozzel temperature
layers, height
spoolname, material, diameter, density, costs
used filament length
take a snapshot-image after the print
Some of the informations were collected by these plugins: PreHeat, FilamentManager, DisplayLayerProgress.
So, the goal is to reuse as many information from 3rd party plugins as possible.
On my todo-list (https://github.com/OllisGit/OctoPrint-PrintJobHistory/projects/1) you can find plugins like: Octolaps, MultiCam, CostEstimation, PrintTimGenius
In the planning board you can see the progress and what feature is implemented next (e.g. finish settings-dialog)
Now comes the tricky part: UI development...bloody damn hard.
Currently I used the table of Print History-Plugin.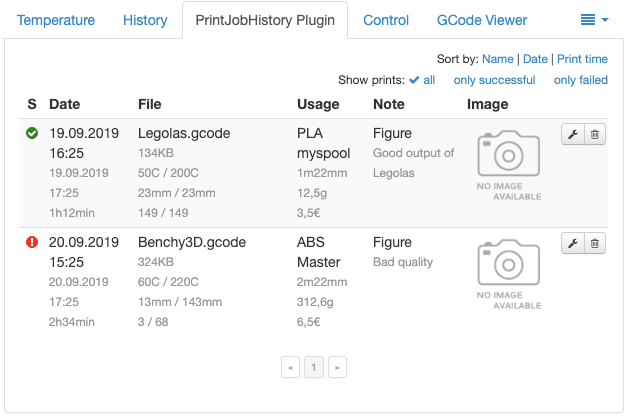 Hopefully I can release a first development version next week.
By
Olli